Welcome to the North Channel

Nurse Practitioner-Led Clinic
The North Channel Nurse Practitioner-Led Clinic (NC NPLC) is a not-for-profit organization that provides primary health care to residents who do not have a current health care provider. This service is offered to residents from Echo Bay to Iron Bridge, Ontario. A nurse practitioner (NP) is a registered nurse with advanced university education who provides personalized, quality health care to patients. Ontario nurse practitioners provide a full range of health care services to individuals, families and communities in a variety of settings including hospitals and community based clinics in cities and smaller towns in Ontario. We work in partnership with physicians, nurses and other health care professionals such as social workers, midwives, mental health professionals and pharmacists to keep you, your family and your community well.
The North Channel NPLC has two locations, with the primary clinic at 135 Dawson Street, Thessalon, Ontario (across from the North Shore Health Network Hospital) plus a secondary location at 3223 Hwy 17B, Echo Bay. The satellite is currently open on Tuesday and Thursday every week 8:30 am - 4:30 pm.
---
Important Notice – COVID 19
The North Channel NPLC is limiting non-urgent appointments in an effort to reduce avoidable patient visits to the clinic. If you have an upcoming appointment, please be aware it may be cancelled, postponed or handled over the phone. Patients can also choose to cancel their own appointments if they are non-urgent.
Please self-isolate if you have any of the following symptoms:
you have a mild respiratory illness, fever and cough;

you have recently travelled internationally including Sault Ste. Marie, Michigan in the last 14 days;

you have been in close contact with a confirmed or probable case of COVID-19; or

you have been in close contact with a person with acute respiratory illness who has travelled internationally including the United States
If any of these are applicable please call Algoma Public Health at 705 759 5404 or 1 877 604 4567 for instructions. Please contact these numbers before going to an Emergency Department at your local hospital. For updated information please visit: www.algomapublichealth.com
---
Third Dose
The province will start to offer third doses of the COVID-19 to the most vulnerable and those highest-risk, providing additional protection against variants.

Those eligible for 3rd Dose:
Transplant recipients (including solid organ transplant and hematopoietic stem cell transplants)

Patients with hematological cancers (examples include lymphoma, myeloma, leukemia) on active treatment (chemotherapy, targeted therapies, immunotherapy)

Recipients of an anti-CD20 agent (e.g. rituximab, acrelizumab, ofatumumab)

Residents of high-risk congregate settings including long-term care home, higher-risk licensed retirement homes and First Nations elder care lodges.
---
Walk-in COVID-19 Vaccination Clinic in the Area for 1st and 2nd Dose
Eligibility: Anyone born 2009 or earlier.
Desbarats:
September 28th at Central Algoma Secondary School in Cafeteria - 32 Kensington Rd on from 3:30 p.m. to 7 p.m.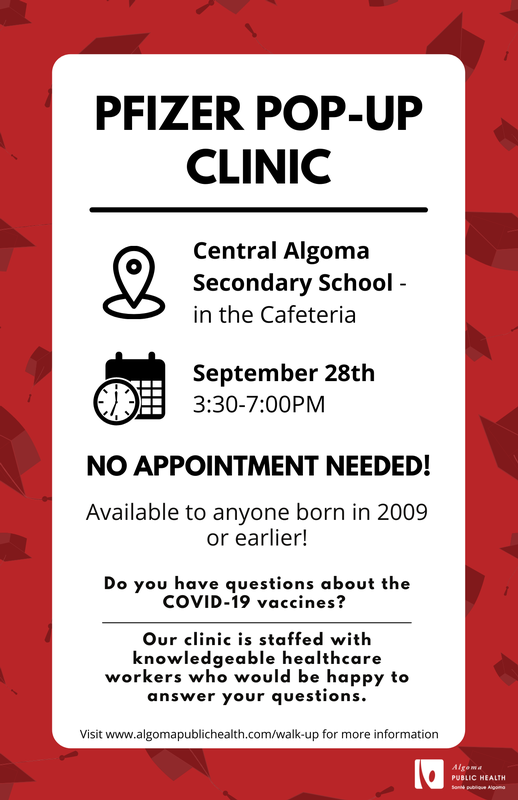 Sault Ste. Marie:
GFL Memorial Gardens - 256 Queen Street East, Sault Ste. Marie
No appointment necessary
September 23rd from 5 p.m. to 8 p.m.
Sault Ste. Marie Pop-Up Clinics
No appointment necessary
September 29th
Sault Ste. Marie Public Works - 128 Sackville Road from 11 a.m. to 2 p.m.
October 1st
Wellington Square Mall Parking Lot - 625 Trunk Road from 12 p.m. to 3 p.m.
Blind River:
Blind River Community Centre - 110 Indiana Dr., Blind River, ON
No appointment necessary
September 29th from 3 p.m. to 6 p.m.
---
COVID-19 Vaccine Receipts
You can view and print your own vaccine receipts on demand at: covid19.ontariohealth.ca. Or you can request a copy by emailing Algoma Public Health at records@algomapublichealth.com or by calling 705-942-4646 ext 3297.